Desktop Lock
Use Desktop Lock to lock the system (desktop, mouse, keyboard etc.) to prevent people from accessing your computer. This security product has helped many users to protect their computers and to control access to their computers.
Desktop Lock is a computer security protection and access control software product. You can use it to lock computer to prevent people from accessing your private documents and resources. When the computer is locked by Desktop Lock, none can access your documents, browse your computer, or use programs on your computer.
You can lock your computer by one click, or let Desktop Lock automatically lock your system at any time or when system becomes idle. You can customize the appearances of the locked desktop with options provided by Desktop Lock. Desktop Lock also supports hotkey to lock the system.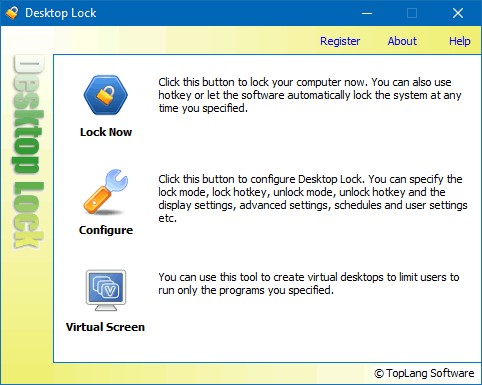 The default unlock hotkey is "h", if you haven't changed it after Desktop Lock installed. Press this button on your keyboard to unlock the system in case you locked your system without first configuring Desktop Lock.
Don't want people to use your computer?
Desktop Lock has been used by many users to help them to protect their computers from unwanted access.

Keep people off your computer.
Once the computer is locked by Desktop Lock, the keyboard and mouse will be totally unavailable. None can use your computer or access your private data.
People cannot unlock the system without the correct unlock hotkey and/or unlock password, and cannot terminated it with Task Manager. With its advanced features, it can keep locking even if someone forced a system restart.

Limit users to use only the program you specified.
Desktop Lock can be configured to lock the system and launch a program or document, so that users can only use that specified program or document.
It also supports "Read-only" mode: users can only view the launched program or document, but cannot operate on it.

Customize appearances of locked desktop.
With different lock modes, you can let Desktop Lock keep current contents of desktop, activate current screensaver, or clear the desktop and show picture or video file.
You can customize the appearances of locked desktop, such as background picture, banner etc. You also can let it play audio or video media on the locked desktop.
Download the fully-functional free trial version to try it now.
"It works!!! No one fools around with my computer and changes settings on me any more. So simple, yet so effective..."
- Sharon M. Obeidallah
Various ways to lock the system
You do not need to launch the main program and click Lock Now button every time, there are various ways to lock the system:
| | | |
| --- | --- | --- |
| | | |
| Lock hotkey | Schedule options | Auto-lock when idle |
| A lock hotkey can be used to lock the system without launching main program. | Configure schedule options to lock system automatically at the hours you specified. | Enable this feature to lock system when you are away from the computer. |
It's impossible for others to figure out how to unlock
Not only it can be set an unlock password, Desktop Lock also supports various unlock methods such as hotkey, mouse action etc. Only if users input the correct hotkey or mouse action, the system then will pop up the unlock password dialog box (or unlock the system directly if it wasn't set an unlock password).
Unlock hotkey - It's *not* a common Windows hotkey. It can be any string such as your nickname, birthday, or any other characters combination.
Mouse clicks - You can choose left button click, right button click or both left and right button down, and specify a repeat count, e.g. right-click 4 times.
Mouse moved - Unlock the system when mouse moved as screensavers do. This unlock method should be used with an unlock password.
Smart Disks

Desktop Lock supports to unlock system with smart disks. A smart disk can be configured to:
Unlock the system automatically when it's inserted.
Re-lock the just-unlocked system when it's removed.
Popup the unlock password dialog box only when it's inserted.
Anti-duplication. Smart disks cannot be simply duplicated if you set it to.
Smart disk is not smart card. It can be any kind of external disks or SD cards. You don't need special devices to create it. Desktop Lock can convert a normal external disk to smart disk, and the smart disk can still be used to save your files.
Smart disk feature bases on the admin password of Desktop Lock. A smart disk can only unlock a system with same admin password.
Other features
Some of other features you may want to know about Desktop Lock:
Leave message on locked desktop.
Lock & run screensaver.
Paint on locked desktop.
Internet time for schedule options.
Multiple users support.
Download Free Trial
You can download and test the fully-functional evaluation copy to see if Desktop Lock meets your needs. It's easy to install and can be uninstalled at any time, as long as you have the admin password, which was set by yourself (admin password protects Desktop Lock itself from changing configuration, and uninstalling).
Version: 7.3.4
764 KB
Windows XP, Vista, 7, 8, 10
Purchase Desktop Lock
Virtual Screen
included in Desktop Lock is only for DEMO purpose. Please download and purchase
Desktop Lock Business Edition
if you need the features provided by Virtual Screen.
Only $24.95 for single license.
Discounts are ready for multiple licenses.
Free updates.