File Pulverizer
Permanently, securely erases files to protect your privacy.
File Pulverizer helps erase your files and folders securely to protect your privacy. It can erase your private files and folder from hard disks, external disks, floppy disks and SD cards. It makes your deleted private files and folders unrecoverable.
Windows Format tool will not erase the contents of your disks. It's still possible to recover the data from the formatted disks. File Pulverizer provides the Erase Disk tool to erase the contents of disk drives, to completely wipe any possible information on those disks, ensure that your files have been deleted securely from those disks.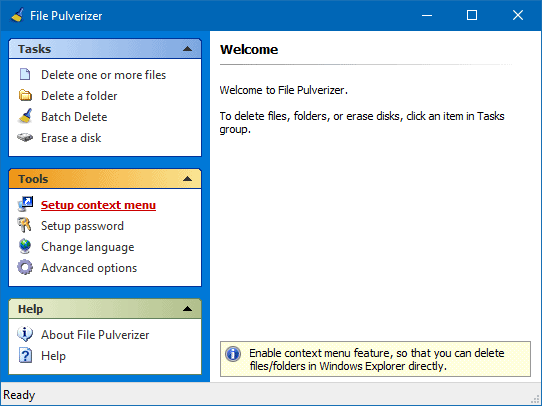 Using File Pulverizer is so easy. You normally don't need to launch its main program, just right-click on any file, folder in Windows Explorer, and choose Delete by File Pulverizer to securely delete it.
Erase your files and folders securely
Files deleted by Windows can be recovered by files recovery tools, it can expose your privacy to spy eyes. Files deleted by File Pulverizer will be completely erased from the disk, and none can recover them.
File Pulverizer can erase private files and folder from Hard disk drives, external disks drives (USB, eSATA...), Floppy, SD cards etc.
Erase disk contents
Windows Format tool doesn't erase disk contents, so data can still be recovered by disk recovery tools after a disk has been formatted. With Erase Disk tool, File Pulverizer can erase the contents of any disk drive, wipe data on those disks, make sure no data can be ever recovered from those disks. Erase Disk tool supports:
hard disk partition
floppy
external disk
SD card
Other portable media
This tool can also be used on just formatted disks, to erase the raw contents of the disks, ensure that there will be never a chance to recover your private data from it.
Download Free Trial
We offer a fully-functional evaluation copy for everyone to try this software for free. Small size for downloading, easy to install, doesn't need extra setup. You can uninstall it any time you want.
Version: 6.0.2
421 KB
Windows 2000, XP, 2003, Vista, 7, 8, 10
Purchase File Pulverizer
Purchase File Pulverizer to protect your privacy by securely erasing your files.
$29.95 for single license.
Discounts are ready for multiple licenses.