Desktop Lock Express
Locks computer to prevent unwanted access.
Restricts access to your computer by locking keyboard, mouse and display.
Provides major features of Desktop Lock with less options and smaller size.
No extra setup needed.
Desktop Lock Express is an access control software which can lock your screen to prevent people from accessing your computer.
Desktop Lock Express is a lite version of Desktop Lock. It provides the major features of Desktop Lock with only the necessary options.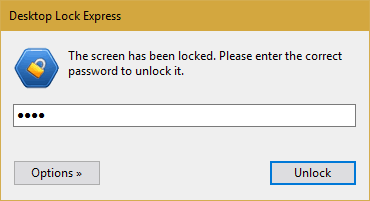 This product has been temporarily suspended.
Contact us
if you have any question.
Secure
No Setup
No Lock Button
Small Size
The lock cannot be bypassed
Locks keyboard and mouse.
Keeps locking if computer rebooted without being unlocked first.
Supports to automatically lock the system after computer booted.
Prevents computer from being turned off when system is locked.
...
Doesn't need to be configured
Although it provides additional options, you can use the default settings directly. The only thing you need to do is to set an unlock password when the first time you launch it.
You don't need to click Lock button
Desktop Lock Express locks your computer without the need of clicking "Lock" button. You launch the software and then it locks the system without an extra click.
Small Size
The size of the Desktop Lock Express is only about 100 KB, it's easier to download and keep.
If you want more controls over the locked desktop, try Desktop Lock or Desktop Lock Business Edition.
Version: 2.2.0
80 KB
Windows 2003, XP, 2008, Vista, 7, 8, 10
Only $19.95 for single license.
Discounts are ready for multiple licenses ($17.95 to $7.95).
Free upgrades and updates.