Desktop Lock Express
Locks computer to prevent unwanted access.
Restricts access to your computer by locking keyboard, mouse and display.
Provides major features of Desktop Lock with less options and smaller size.
No extra setup needed.
Desktop Lock Express is an access control software which can lock your screen to prevent people from accessing your computer.
Desktop Lock Express is a lite version of Desktop Lock. It provides the major features of Desktop Lock with only necessary options.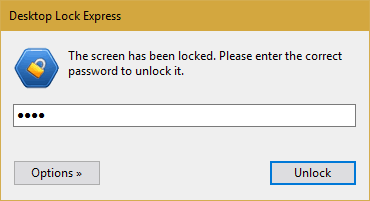 Lock your computer
Lock the desktop, keyboard and mouse with a password.
Keep locking if computer rebooted without being unlocked first.
Lock desktop automatically after computer booted.
Disable Task Manager while system being locked.
Hide screen contents with background color / image.
Or, show the screen as "read-only" while system being locked.
Setup is not necessarily needed
Although Desktop Lock Express provides additional options, you can use the default settings directly. The only thing you need to do is to set a password to protect the locked desktop, the main program, and the uninstaller.
Small size
The size of Desktop Lock Express is only about 250 KB. It's easier to download and keep. It will use very few system resources, can be considered nothing at all for computer hardware that can run Windows 7 / 10.
If you want more controls over the locked desktop, try Desktop Lock or Desktop Lock Business Edition.
Version: 3.0.0
240 - 250 KB
Windows 7, 8, 8.1, 10
Only $19.95 for single license.
Discounts are ready for multiple licenses ($17.95 to $7.95).
Free upgrades and updates.